JUNETEENTH
A City-wide Celebration of Freedom
Nashville, Tennessee
Over 20 Celebrations from Hadley Park to Buchanan St. to Antioch to Broadway
June 14-19, 2021
Our History is Everybody's history
In celebration of a day designed to illuminate emancipation; JUNETEENTH is a national holiday that focuses on African American's liberation. When looking back at history, slavery played a crucial role in the life of African Americans. For 400 years, blacks in America were denied rights, chastised, dehumanized, and defined by the color of their skin. Juneteenth, short for "June Nineteenth," commemorates a significant day in 1865 when slaves were set free. Before this autonomy, an Emancipation Proclamation was issued by former President Abraham Lincoln. This proclamation was sent out on January 1, 1863 and was issued so that enslaved persons would be "free." However, this declaration only applied to places under Confederate control and not slave-holding border states. In Texas, slavery continued, and many African Americans did not encounter genuine freedom. It was not until Governor Robert E. Lee stood on the soil in Texas and read General Order No. 3 that declared, "the people of Texas are informed that, following a proclamation from the Executive of the United States, all slaves are free."Initially, once the slaves were freed, they took part in parties, family reunions, barbecues, reading, and hosting various church services. They carried out actions they were once restricted from. In Nashville, many residents celebrate this holiday by going to parks, spending time with family, and hosting personal celebrations. Juneteenth marks a legacy of slavery, however, this major accomplishment in history remains relatively obscure. This moment in time highlights the portion of history that signifies how emancipation reached those in the deepest parts of the former Confederacy. Juneteenth has impacted the narrative crafted on freedom, liberation and legacy. The event that transpired on June 19, 1865, was not the beginning of Black people's quest for freedom and our continued celebration of this great holiday will ensure that we will never stop seeking Freedom.
Event Listing
1. The Equity Alliance
Event: Black on Buchanan St.
Location: Buchanan Street 37208
Date: June 19th
Time: 12:30 pm - 5pm
More information here2. On The Rise Black Business Expo
Location: The Elevate Cafe
Dates: June 19th
Time: 12pm - 8pm
More information here3. Music City Freedom Festival
Event: The Music City Freedom Festival
Location: Hadley Park
Date: June 19, 2021
Time: 12 noon
More information here4. Frist Art Museum
Event: Juneteenth 2021 at the Frist
Location: 919 Broadway (Turner Courtyard)
Date: June 19th
More information here5. African American Cultural Alliance/Fellavision
Event: Juneteenth615/Taste of Freedom Food Trucks
Location: Fort Negley Park
Dates: June 19, 2021
Time: 5:00pm - 10:00pm
More information here6. NMAAM
Event: Celebration of Legends
Location: NMAAM
Dates: June 17, 2021
More information here7. NMAAM
Event: State of Black Music Summit
Location: NMAAM
Dates: June 18, 2021
More information here8. NMAAM
Event: Museum Dedication Ceremony
Location: NMAAM
Dates: June 19, 2021
More information here9. NMAAM
Event: Juneteenth Block Party
Location: NMAAM
Dates: June 19, 2021
More information here10. Nashville Jazz Workshop
Event: Jazz Parade on Buchanan
Location: NJW Parking Lot
Dates: June 19, 2021
Time: 12noon - 6:00 PM
More information here11. Brother's Roundtable
Event: Juneteenth Community Celebration
Location: Parkwood Community Center
Dates: June 19, 2021
Time: 12noon - 6pm
More information here12. Blackburn Enterprises
Event: Pre- Juneteenth Pop-Up Shop
Location: Rock Tha Bellz Event Center
Dates: June 18, 2021
Time: 4pm- 8pm13. Black Lives Matter
Event: Black Lives Matter Street Mural, Juneteenth Paint and Brunch
Date: June 19, 2021
Time: 8am - 2pm14. Pharaoh's Lounge
Event: It Takes a Village
Location: 2510 Murfreesboro Pike, Nashville TN 37217
Date: June 19, 2021
Time: 2pm - 6pm15. A Day of Celebration & Awareness of Freedom
Event: A Day of Celebration & Awareness of Freedom
Location: The Rock United Ministries
Date: June 19, 2021
Time: 12 noon16. Black Murfreesboro
Event: Black Murfreesboro Market
Location: Cannonsburgh Village
Date: June 19, 2021
Time: 10am - 4pm17. The Majik Trap
Event: Cosplay Ball
Location: 1170 Cheyenne BLVD, Madison TN
Date: June 18, 2021
Time: 6pm - 10pm18. Juneteenth On The River Celebration
Location: Riverfront Park
Date: June 19, 2021
Time: 10am - 10pm
More information here19. Bradley Academy Museum
Event: Juneteenth at Bradley Academy Museum
Location: Bradley Academy Museum
Date: June 19, 2021
Time: 10am - 4pm
More information here20. Nashville Soccer Club
Juneteenth Community Watch Party with Councilman Brandon Taylor, Coke/ Body Armor with The Newest and First Black-Lead Supporters Group, The MixtapeDate: June 18, 2021
Time: 6PM - 9PM
Location: Elizabeth Park (1701 Arthur Ave, Nashville, TN)
Description: Nashville SC will host a watch party in historic North Nashville to kick-off Juneteenth Holiday21. Juneteenth Freedom Day Ride
Time: 9:00 AM - 10:00 AM
Date: June 19, 2021
Location: Watkins Park22. 5th Annual Freedom Fair
Date: June 19, 2021
Location: R.E.S.T.O.R.E Re-Entry Court
Time: 9:00 AM23. Juneteenth Day Party
Location: Germantown Pub
Date: June 19th
Time: 12:00 pm - 5pm
More information here24. Juneteenth Celebration at Plaza Mariachi
Date: June 19, 2021
Location: Plaza Mariachi Music City
Time: 1:00 PM - 10:30 PM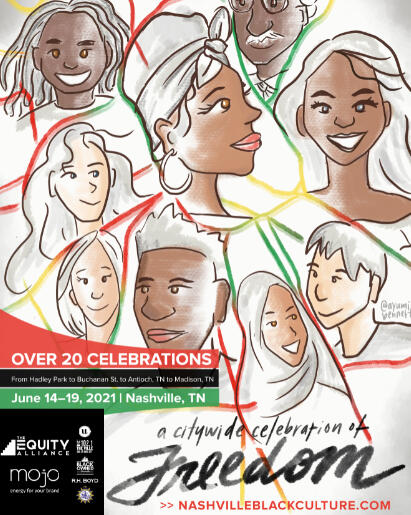 Celebrate with All of Us
Watch this space! We will update with specific hashtags and social accounts to follow during this celebration and beyond.